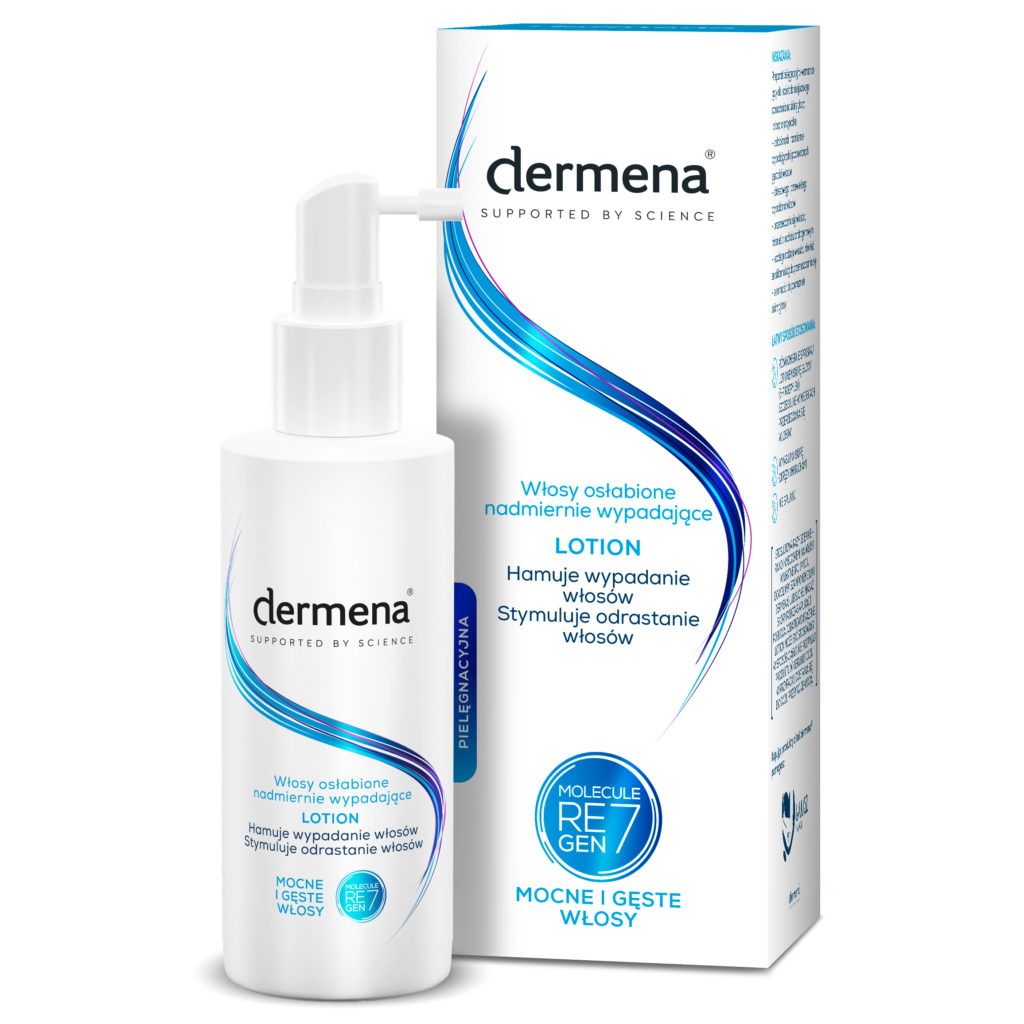 LOTION dermena®
Effect:
reduces hair loss

stimulates hair growth

strengthens hair

reduces excessive hair greasiness

protects the scalp against irritations

its light formula does not weigh the hair down

absorbs quickly and does not leave the hair sticky
Indications:
excessive hair loss in women

thinning hair, also of androgenic origin

damaged, weak and excessively falling out hair

greasy hair
Volume:
150 ml
Efficiency of dermena® lotion has been confirmed in dermatological tests.

Regular application of dermena® lotion for 4 months:

reduces hair loss in 97% of respondents
stimulates hair regrowth in 100% of respondents
strengthens hair in 94% of respondents
protects the scalp against irritations in 93% of respondents
makes the hair visibly thicker in 82% of respondents
clearly nourishes and moisturizes hair in 85% of respondents

---

Application tests focusing on the dermena® women lotion, which lasted four months, were conducted in an Independent Research Laboratory.

Molecule Regen 7

A unique active substance.

Physiological active substance of vitamin origin (vitamin PP metabolite), which improves microcirculation of the scalp and strengthens the hair follicle. It improves its nutrition, and hence extends the life cycle of the hair in anagen phase and stimulates hair growth. Irritation preventing properties of this substance have been proven during application tests (Pol. J. Pharmacol., 2003, 55, 109). It regulates the activity of sebaceous glands and maintains a healthy scalp. More »

---

H-vit multi-active complex

Natural multi-active complex containing various plant extracts (glycyrrhiza glabra, rosa centifolia, cichorium intybus, rhodophyceae, bertholletia excelsa), as well as panthenol and biotin.
.H-VIT multi-active regulates sebaceous glands and reduces the risk of androgens damaging hair follicles. It oxygenates and energizes hair follicles and the scalp. H-VIT is also rich in nutrients and protective compounds (B-group vitamins, vitamin F, biotin, trace elements - zinc, calcium, manganese, amino acids, polyunsaturated fatty acids) that have strengthening and regenerating effect both on the scalp and hair structure.

---

Best results can be achieved by using dermena® women lotion twice a day – in the morning and in the evening. Use on wet hair (after shampooing with dermena® shampoo) or dry hair. Spray evenly on the scalp (5-7 sprays). Pay particular attention to the areas of receding hairline and thinning hair. Massage the product gently into the scalp with your fingertips with circular movements. Comb your hair and style as usual. Do not rinse. dermena® women lotion may be used on continuous and regular basis.

Massaging the scalp immediately after applying the dermena® women lotion additionally stimulates blood circulation within the skin and improves the action of active substances. It is recommended to use the lotion along with dermena® shampoo, anticipated for everyday use. In case of excessive hair loss, it is recommended to use dermena® women ampoule treatment.