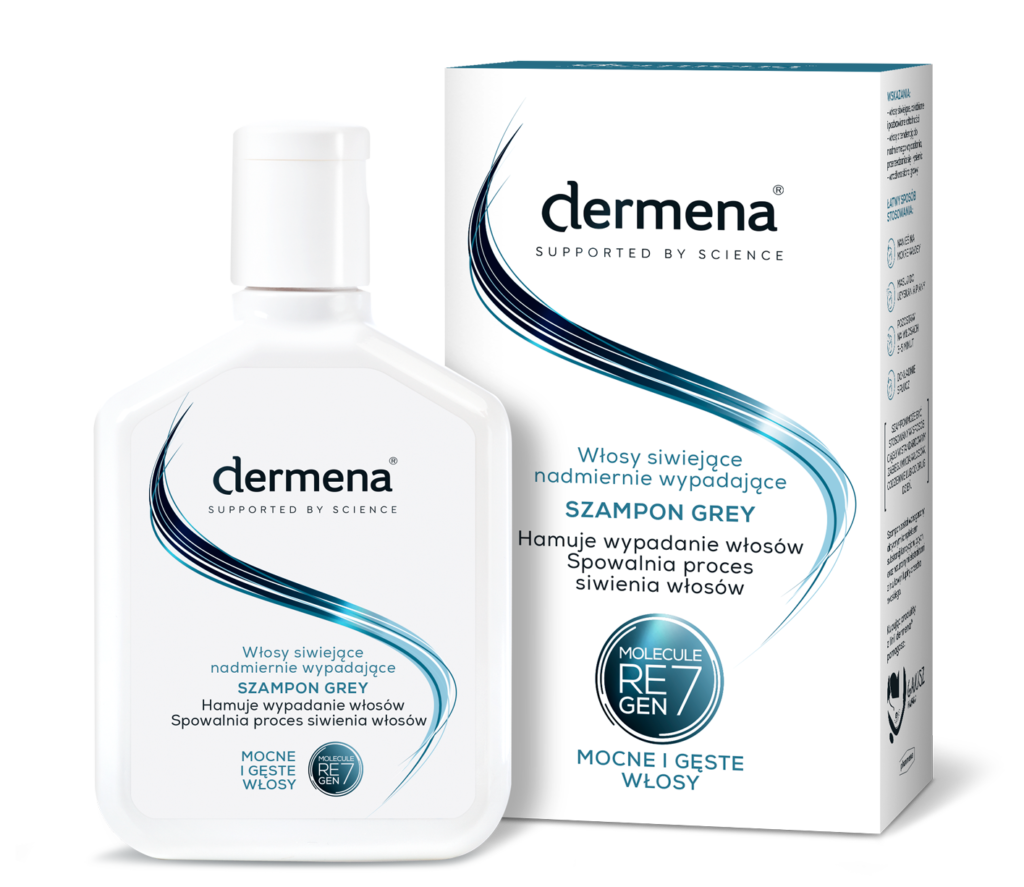 dermena® GREY SHAMPOO
Effect:
reduces hair loss

slows down hair graying
Indications:
graying, weakened hair lacking vitality

hair prone to excessive loss, thinning and balding

sensitive scalp
Volume:
200 ml
BUYING DERMENA PRODUCTS,
YOU ARE HELPING GAJUSZ FOUNDATION.

Effects confirmed in dermatological tests.

dermena® grey shampoo after 4 months of regular use:

slows down hair graying and darkens its color according to 83%*
restores hair its natural color according to 87%*
reduces hair loss according to 93%*
strengthens hair and restores its vitality, stimulating regrowth according to 97%*
restores hair its natural thickness and volume according to 100%*
is delicate to the skin according to 100%*

* % of subjects who confirmed the effects of the shampoo after 4 months of regular use. The tests were conducted by an independent testing laboratory.

In order to illustrate the hair strengthening effects of regular use of the tested dermena® grey shampoo, pictures were taken using TrichoScope MEDL4HM:

Molecule Regen 7

A unique active substance.

Physiological active substance of vitamin origin (vitamin PP metabolite), which improves microcirculation of the scalp and strengthens the hair follicle. It improves its nutrition, and hence extends the life cycle of the hair in anagen phase and stimulates hair growth. Irritation preventing properties of this substance have been proven during application tests (Pol. J. Pharmacol., 2003, 55, 109). It regulates the activity of sebaceous glands and maintains a healthy scalp. More »

---

For the best effects, use dermena® grey shampoo as part of a standard, everyday (or every other day) hair washing treatment. Apply the shampoo to wet hair and carefully rub it in until foam is created. Leave the shampoo on your hair for 3-5 minutes, then rinse it thoroughly. The shampoo can be used continuously.

With the shampoo, we recommend using a formulation for topical use on the scalp from the dermena® or dermena® men line (gel, lotion, treatment in ampules). To complement the strengthening treatment, try dermena® complex dietary supplement.