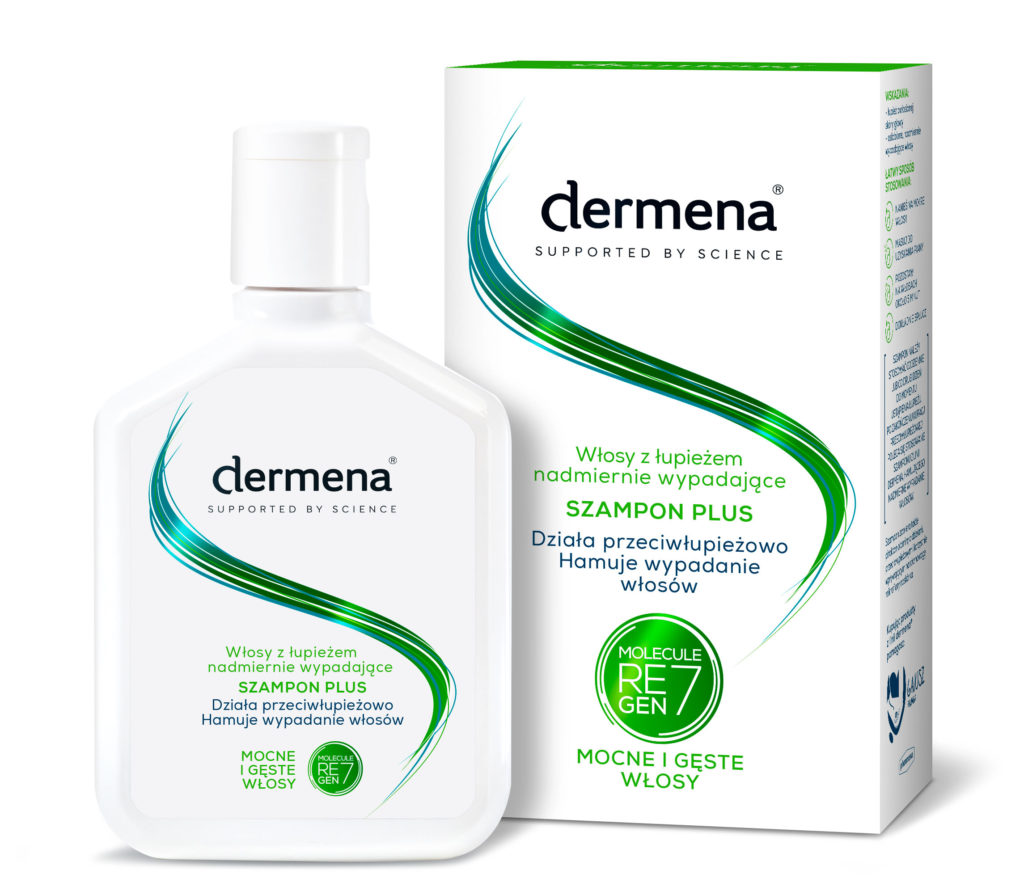 dermena® PLUS SHAMPOO
Effect:
fights dandruff

reduces hair loss

soothes irritations

reduces excessive hair greasiness

maintains good condition of the scalp

does not weigh the hair down

leaves the hair looking healthy - shiny and soft
Indications:
dandruff of the hairy scalp

 excessive hair loss
Volume:
200 ml bottle
Efficiency of dermena® plus shampoo has been confirmed in dermatological tests.

Dermatological tests confirmed that applying dermena® plus shampoo on a regular basis for 4 weeks:

eliminates and reduces dandruff symptoms,
alleviates scalp irritations,
eliminates itching sensation of hairy scalp

---

Application tests focusing on the dermena® plus shampoo, which lasted four weeks, were conducted in Department of Dermatology, Medical University of Lodz and in an Independent Research Laboratory.

Molecule Regen 7

A unique active substance.

Physiological active substance of vitamin origin (vitamin PP metabolite), which improves microcirculation of the scalp and strengthens the hair follicle. It improves its nutrition, and hence extends the life cycle of the hair in anagen phase and stimulates hair growth. Irritation preventing properties of this substance have been proven during application tests (Pol. J. Pharmacol., 2003, 55, 109). It regulates the activity of sebaceous glands and maintains a healthy scalp. More »

---

Piroctone olamine

It is an active substance eliminating dandruff. It has a positive effect on balancing the microflora of the skin, protecting it against the excessive development of Pityrosporum ovale (Malassezia furfur), which is responsible for the occurrence of dandruff. This substance reduces excessive flaking of the scalp and removes scales form the stratum corneum. It does not leave the hair and scalp dry.

---

dermena® plus shampoo should be used on a daily basis (or every second day) until the elimination of dandruff symptoms. Apply the shampoo on wet hair and apply evenly on the scalp. Massage gently until it foams. Leave the foam on the scalp for about 5 minutes. Then rinse thoroughly.

In case of dry and damaged hair, it is also recommended to use dermena® plus shampoo along with dermena® conditioner, which strengthens hair and facilitates combing. After finishing the treatment with dermena® plus shampoo, it is recommended to continue using the selected hair strengthening and hair loss preventing shampoo from dermena® line.