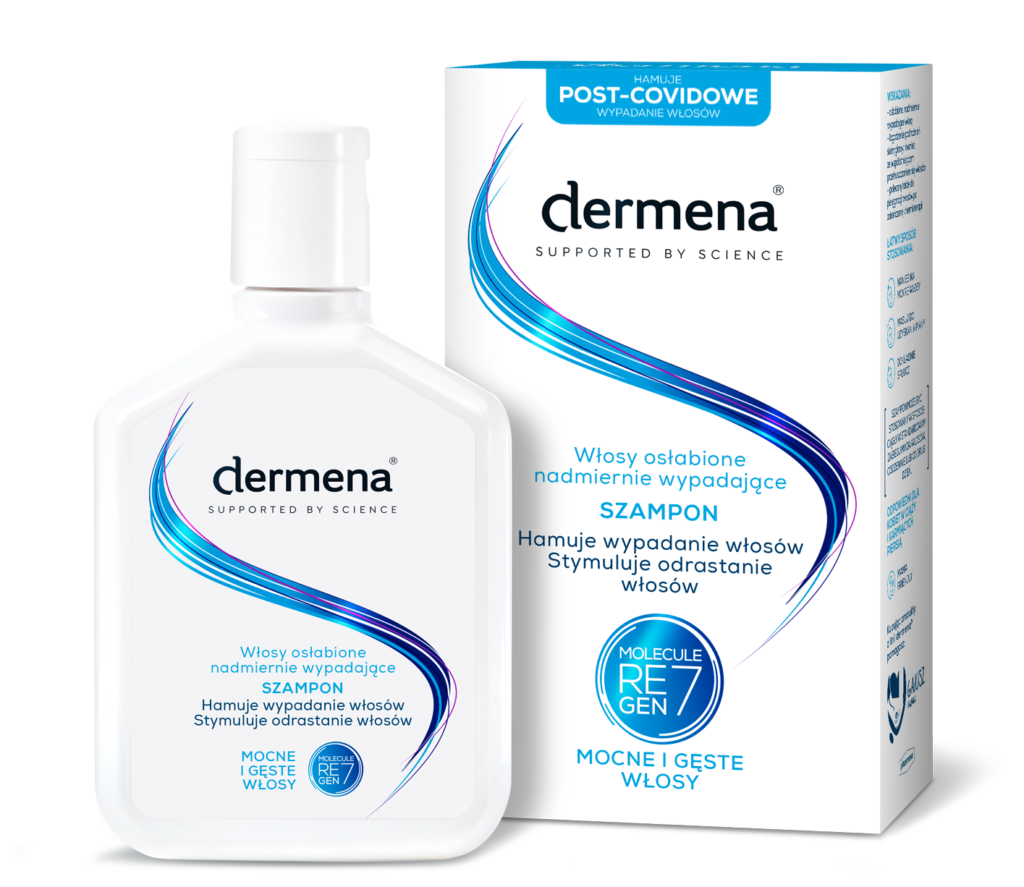 dermena® SHAMPOO
Effect:
reduces hair loss

stimulates hair growth

strengthens hair

protects the scalp against irritations

reduces hair greasiness

perfectly washes the scalp and ensures appropriate hair care

does not weigh the hair down
Indications:
weak hair and excessive hair loss

soothing scalp irritations, also in case of concomitant greasy hair

care product, which is also recommended after chemotherapy
Volume:
200 ml
Efficiency of dermena® shampoo has been confirmed in dermatological tests.

Regular application of dermena® shampoo for 3 months:

reduces excessive hair loss in 80% of respondents
strengthens and regenerates hair in 97% of respondents
reduces hair greasiness in 70% of respondents
does not cause excessive drying of the scalp in 90% of respondents

The result associated with inhibited hair loss and the recession of seborrhoea can be usually observed 3-4 weeks after regular application of dermena® shampoo on daily basis (less frequent application may prolong this period).

dermena® shampoo poses positive influence on the overall condition of the scalp and strengthens hair:

---

Application tests focusing on the dermena® shampoo, which lasted three months, were conducted in an Independent Research Laboratory.

Molecule Regen 7

A unique active substance.

Physiological active substance of vitamin origin (vitamin PP metabolite), which improves microcirculation of the scalp and strengthens the hair follicle. It improves its nutrition, and hence extends the life cycle of the hair in anagen phase and stimulates hair growth. Irritation preventing properties of this substance have been proven during application tests (Pol. J. Pharmacol., 2003, 55, 109). It regulates the activity of sebaceous glands and maintains a healthy scalp. More »

---

Best results can be achieved when using dermena® shampoo during the standard, everyday (or every second day) shampooing. Apply the shampoo on wet hair and massage carefully until it foams. Then rinse thoroughly. This shampoo can be used on a continuous and regular basis.

In case of excessive hair loss, it is also recommended to simultaneously use dermena® gel and shampoo. dermena® conditioner also stands as the perfect complementation of the care treatment, strengthening hair and facilitating combing.